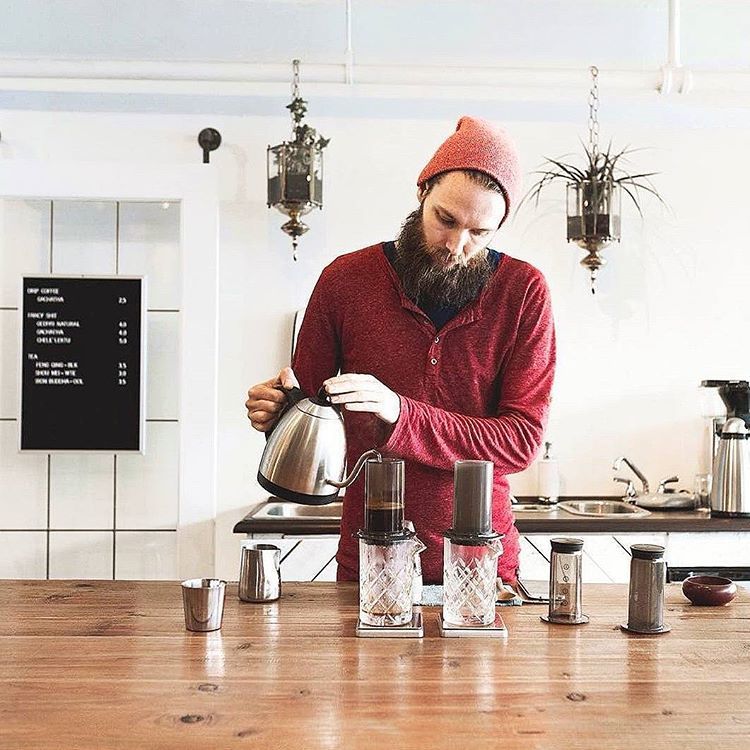 Aubade Coffee
· Vancouver, BC ·


3-5 USD
First Impressions
You know that moment when you're in the mood to dig through a treasure trove of eclectic antiques but you also want some of the world's best coffee, and you also need a haircut? Honestly, I feel like I should never be in that specific predicament, but probably am like every two weeks. Luckily for me, Aubade is here to save the day. It's less of a cafe than a coffee stall, tucked into the front area of Space Lab (a great vintage store that seems to go on for days). It took me a few tries, walking up and down the block, to locate the store, but I quickly realized that Aubade is like a diamond in the rough, and while easy to pass by, it's one of the more unique and genuinely innovative cafes I've visited to date.
An Aubade is a poem or piece of music appropriate to the dawn or early morning. Aubade Coffee's owner Eldric Kuma believes that your mornings are meant to be savoured, much like a serenade in the golden lit dawn of a summer's day. So is your coffee. Eldric opened the space as a one man show, and spends his days behind the bar serving amazing coffee to people who share his love for the craft. He's a really interesting guy and conversation flows easy. His love for coffee took him around the world. He spent time working in cafes in Berlin and Melbourne and they sparked this passion in him that has distilled into Aubade.
The bar has three stools and when I first arrived, two were taken. I planned to grab my coffee to go but was immediately brought into the conversation. Eldric shared what coffees were really amazing him at the moment. The other two guys were also coffee enthusiasts, one from Ontario and the other from Oslo. I ended up spending the afternoon lost in amazing conversation. Eldric offers a number of great local coffees and also brings in some of his favorite Australian beans. He has gained national notoriety for his performances in recent latte art (he placed 6th nationally in 2015), which is especially amazing, considering he doesn't serve espresso and only works with drip coffee. He served me an aeropressed Australian coffee that was then poured through a wine aerator, after encouraging me to breathe in the coffee both before and after he ground it. The time, care, and attention spent on each drink here is truly special, and I have loved each experience more than the last.
Another cool project he is working on is restoring and selling old coffee brewing equipment. Last time I was there, he was finishing restoration and repair work on a beautiful la marzocco espresso machine, and was planning to resell some really cool antique siphon brewers. It's an honorable thing to give new life to these amazing pieces of equipment, and they feel right at home among the annals of history waiting to be discovered in Space Lab's antique collection.
Photos owned and copyrighted by

Aubade Coffee and Cafe YVR, Vancouver Coffee Snob, and Michelle Young.